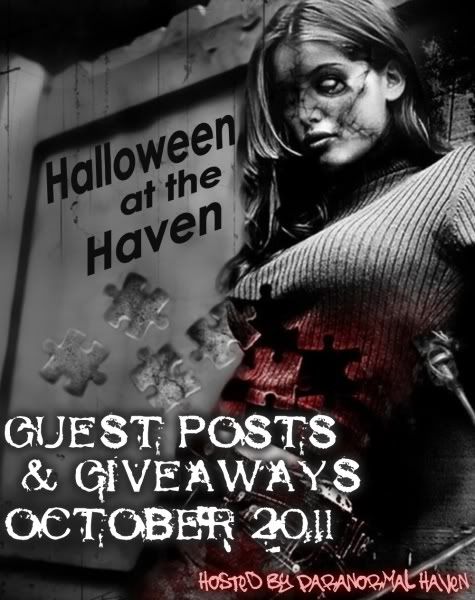 Welcome to Halloween at the Haven, our month long event celebrating our favorite time of year. We will have guest posts and giveaways from some of your (and our) favorite authors all October long. Before we get started, we need to go over a few rules.
1. You will be required to fill out a Rafflecopter form
and
leave a comment for each giveaway you enter.
2. Make sure to pay close attention to the shipping on each giveaway. Some will be open internationally while others will be US or US/Canada only.
3. You can enter as many giveaways you want. Our
giveaway policy
applies to all event giveaways. Please read before entering.
4. All giveaways end
(unless stated otherwise on a specific giveaway)
on November 6th and winners will be announced on November 9th. They will have 3 days to respond to our emails [or message us at Paranormalhaven(at)gmail(dot)com] or another winner(s) will be chosen.
You can help spread the word of our event by putting up our event button on your blog's sidebar.
Go here to find the HTML code for it
. You will earn +1 entry for each giveaway you enter for having it up.
____________________________________________
(We will be updating this list daily with a link to the event post)
10/1
-
Karina Cooper guest post and giveaway
10/2
-
Darynda Jones guest post
10/3
-
Regan Hastings guest post and giveaway
10/4
-
Caitlin Kittredge guest post and giveaway
10/5
-
Monica Burns guest post
10/6
-
Jennifer Estep guest post and giveaway
10/7
-
Gerry Bartlett guest post and giveaway
10/8
-
Moira Rogers guest post and giveaway
10/9
-
Jenn Bennett guest post and giveaway
10/10 - No event post scheduled
10/11
-
Dani Harper guest post and giveaway
10/12
-
Marie Treanor guest post
10/13
-
Kelly Gay guest post
10/14
-
Lisa Beth Darling guest post and giveaway
10/15
-
Lynsay Sands giveaway
10/15
-
Shannon K Butcher giveaway
10/16
-
Sharon Ashwood guest post and giveaway
10/17
-
Virna DePaul guest post and giveaway
10/18
-
Katie MacAlister guest post
10/19
-
Yvonne Navarro guest post and giveaway
10/20
-
Angie Fox guest post and giveaway
10/21
-
Gini Koch guest post and giveaway
10/22
-
Sandy Williams guest post and giveaway
10/23
-
Erin Kellison guest post and giveaway
10/24
-
Pamela Palmer guest post and giveaway
10/25
-
Jacquelyn Frank guest post
10/26
-
Nancy Holzner guest post and giveaway
10/27
-
Terri Garey guest post
10/28
-
Carolyn Crane guest post and giveaway
10/29
-
Zoe Archer guest post and giveaway
10/30
-
D.B. Reynolds guest post and giveaway
10/31
-
Deborah Cooke guest post and giveaway