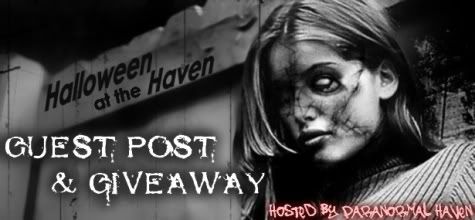 At first, you're a little disappointed. You've arrived in Dunvegan, Alberta, a little northern town in the Peace River region of northern Canada. But you didn't expect it to be so, well,
ordinary
– after all, this is where the legendary Changeling family, the Macleods, live. And all their Changeling friends. It's frickin'
Werewolf Central,
at least according to the stories you've uncovered and the sources you've cultivated. But an honest-to-gosh tractor is lumbering down Main Street. And that store over there is selling coveralls and rubber boots. Horrifying from a fashion perspective perhaps, but not the scary fare you'd hoped for.
But you're certain there's a story lurking here. And while your coworkers are enjoying their Halloween parties at home, you've scored what you hope will be the
ultimate
Halloween night activity: a ride-along with Royal Canadian Mounted Police Sergeant Brandan Fitzpatrick.
The building looks more like someone's house than the RCMP detachment HQ. Tall trees skitter their branches like fingernails over the oddly peaked roof. After all the reports of werewolf sightings and deadly animal attacks in the area, you expected something more official-looking, more suited to the investigation of savage killings and the unexplained. The dispatcher's office is little larger than a phone booth, and the young corporal there checks your ID and waves you towards a nondescript door.
Sergeant Fitzpatrick rises from behind an overflowing desk – and makes the desk look ridiculously small. He must be at least six-three and the tailored tan shirt of his uniform doesn't hide his muscular frame. There's a single lock of white in the sergeant's black hair, no doubt marking a scar. That and the five o'clock shadow only serve to accentuate his rugged features. In another life he must have been a cowboy, you decide. Or maybe a Marine. His most unique feature, however, are startling green eyes.
Right now those eyes are narrowed at
you
, sizing you up.
He extends his hand and yours is lost in it. "If you're ready to do the rounds, Miss, I'll have the constable bring the car to the front. We shouldn't be gone more than a couple hours." His voice matches his size, and it sends pleasant vibrations to places you'd rather not think about right now.
You ask how long he's lived in Dunvegan, and you almost back up a step when Fitzpatrick frowns.
"It's not Dun-VEE-gan, ma'am. Believe me, there are
no
"vegans" in this town! Dun-VAY-gan is the way it's said. It's Scottish, named after a castle in Skye."
Aha – your sources say that the Macleods are from that area! You jot that detail in your notebook and follow the sergeant, noticing another detail: Fitzpatrick has a great ass. Best not to write
that
down…
The cruiser is at the curb, a Crown Victoria with its big engine running quietly. He holds open the back door, revealing a worn yet immaculate interior. "Sorry but civilians have to ride in the back," he says. "Department rules."
Not as much fun as sitting up front with
Mr. Tall, Dark and Official
, but you shrug and comply. At least he won't be able to see what you're writing with a layer of plexiglass between you. And maybe it's better that he doesn't -- after all, someone as practical as a police officer might laugh at your werewolf exposé.
Fitzpatrick cruises slowly down Main Street, nodding at points of interest along the way. "That's the Jersey Pub. Not many fights to break up there, except between relatives. Got called in last Friday night—"
"Isn't that where you arrested Culley and Devlin Macleod?" you ask.
"There was no arrest. It was just the usual brotherly competition, aggravated by the fact that they're twins."
You wonder if it was aggravated by the
full moon
. After all, the brothers are rumored to be Changelings, just like the rest of their family.
Dusk has fallen and the flickering orange light of jack o'lanterns begins to appear in windows and on front steps. As you drive along, you see more and more until there must be four or five in every house, on every block. "People must really like Halloween here."
He snorts. "Not much, actually."
"Isn't there something odd about those pumpkins—"
"That's the Finer Diner over there," he interrupts. "Best food in town."
The windows are dark and the blinds pulled down but it looks like a convenience store attached to a gas station. As if Fitzpatrick read your thoughts, he adds, "They added on to the building in the back to make room for a restaurant. Decorated it in classic 50s style, with red leather booths and so forth. Bill and Jessie Watson run it."
OMG, you've heard of them. Your sources say that Jessie Watson is a petite woman, yet rumored to be the Alpha of Dunvegan's Changeling pack. "Maybe you could introduce me to them?" It's hard to keep the hopeful note out of your voice. And it probably wouldn't seem professional to add "
pretty please?"
to the request.
"You can introduce yourself. I have instructions to bring you out to the Macleod place after we're done. The Watson's will be there too, along with the rest of the P— I mean, along with
everyone else
."
The Macleod place! This could be the breakthrough you're hoping for. "You mean the farm that Connor and James share?"
He nods. "They hold a big barbecue every Halloween night. Kind of a tradition for family and friends, right after the hunt."
Must be a scavenger hunt, you think to yourself. You're so excited by the prospect of meeting Connor and James and Zoey and Jillian and – "Wait a minute, where's all the trick-or-treaters?" The streets of Dunvegan are completely deserted.
"A couple of years ago, the village councilors voted to eliminate that. Too dangerous, they said. Kids have parties instead. It's safer that way."
Safer from what?
you wonder. Just then you squint at a grouping of large pumpkins by a mailbox. There are no grinning faces, not on these, and not on any of the pumpkins you can see. Instead, each pumpkin has a full moon carved into it and the howling silhouette of a wolf. As the cruiser continues to the edge of town, you realize that
all the jack o'lanterns in town have exactly the same design
.
"What's with all the wolves?" you ask.
"Nothing. Somebody found the design on the internet and someone else started a rumor that it would keep away malevolent spirits. That's the original purpose of jack o'lanterns you know – to frighten away evil. The wolf design, well, it's probably just one of those crazy trends. Next year it'll be something different."
"Wait a minute – what evil are they trying to keep away? Would it have anything to do with
werewolves?"
The sergeant doesn't reply. The cruiser leaves town and bumps along a dark country road.
You know you're close to the story and you press the sergeant for answers. "What about the werewolf rumors in this town? Is there a connection to the number of tourists reported missing? Do you have any new leads? Have you ever seen a werewolf yourself?"
The car comes to a sudden stop in a wooded area and Fitzpatrick bolts from the car. You're about to follow him, when you realize there are no door handles in the back of a police cruiser! The plexiglass prevents you from climbing into the front seat and you are trapped! "Hey!" You bang your fist on the window and holler, "Let me out of here!"
A big black shape emerges from the moonlit trees and you can hardly believe what your eyes are telling you. It's a wolf, an honest-to-god wolf – but bigger than any wolf has a right to be. As it stalks stiff-legged towards the car, you're suddenly glad you're locked inside where it's safe. At least you
hope
it's safe.
The wolf's face looms in the window and you cover your mouth with both hands, fighting the urge to scream. You back up until you're scrunched against the opposite door, trying to make yourself as small as possible. The creature is blacker than the shadows that surround it except for a small streak of white between its ears … and its eyes are green and glowing. Suddenly you see other monstrous wolves loping between the trees, the moonlight dappling their pelts and glinting off big white teeth!
Without warning, you hear a deep voice echoing inside your head:
Time for the hunt
.
Behind you, the car door slowly swings open and you hit the ground running as the entire forest erupts with excited yips and howls.
Dani: If you're one of my readers, you know that the Macleod siblings and their friends are probably rolling on the ground laughing at this far-fetched Halloween yarn. Werewolves – or
Changelings
, as they call themselves – are just regular folks and never hunt down and barbecue humans. Well,
almost
never. You can read all about them in my new paranormal series from Kensington Brava, beginning with Changeling Moon, Changeling Dream and, on December 27, Changeling Dawn! Go to
http://www.daniharper.com/
for all the details and excerpts.
Meanwhile, answer the following question and your name will be entered in a random drawing. The winner gets a plush wolf, a Dani Harper book bag AND a signed copy of Changeling Dream!
QUESTION: Is there an urban legend that scared you as a kid, maybe a campfire story that kept you up at night? Or is there one that shows up in your nightmares now? Tell me what makes chills run down your spine!